Welcome to the 1st annual "Blogs 4 boobies" blog bounce(hop)!
This is day 1 of a 2 day event! Be sure to come back to
Skipping stones Design tomorrow
for more cards/projects and fun!
We are so glad that you joined us today.
I have joined up with Skipping Stones Design to help raise money to fight the war against Breast Cancer. SSD is celebrating the release of 2 ALL NEW Stamp sets. They are also donating $2 for EVERY stamp set sold this week to the cause!!! This is a one-of-a-kind-blog (hop)bounce! Every card/project that is show here in the "blogs 4 boobies" blog bounce is up for auction! All of the money raised through the silent auction, on our blogs, will be donated to the Susan G. Komen foundation.
There are 3 ways that you can help, and join in on the fun!
1. You can help by Shopping!
For
every stamp set that you purchase
during Sept 15th through the 23rd
SSD will donate $2
to the Komen Foundation. Stamping and shopping that you can feel good about ! Skipping Stones Design is celebrating "blogs 4 boobies" with the release of two new stamp sets!!!
Click here to check out SSD stamps
Here is your first look at Bras volume #2 4"X6"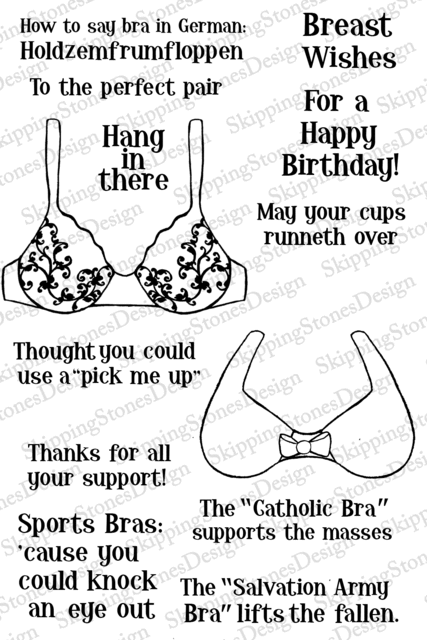 Bras volume #2 is the follow-up to our #1 selling stamp set Bras Volume #1. These stamps make the perfect "anytime" funny cards for you girlfriends. Or Use them for funny birthday, thank you,and cheer up cards. This stamp set turns cardmakers into comedians!
Here is Wise Men 4X6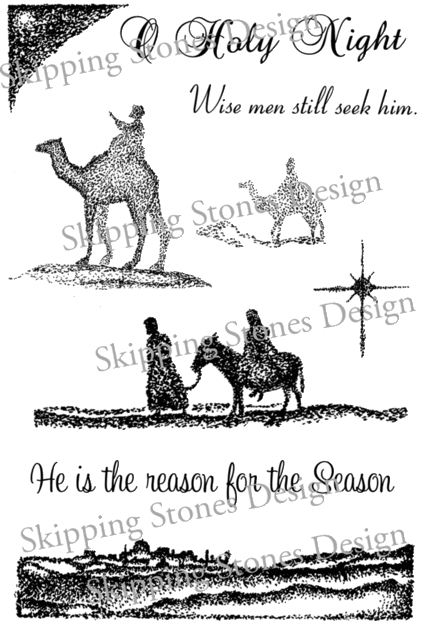 Several stunning images can be combined, to re-create the scene of the first Christmas. The pointillism technique used to illustrate these stamps gives the images extra depth. These stamps will help you make inspirational cards that will be treasured for years to come.
2. You can help by *Bidding!
Another way you can help us raise money for the Komen Foundation is to *bid on a project or card along the blog bounce(hop). YES! EVERY Single card/project along the blogs for boobies bounce is up for auction.
We recommend a starting bid of $5 or more
.
Your *Bid
not only
includes
the card or project but
shipping to your home
as well.
Please Note IF you want to bid, and live outside the U.S. we would request that you pay the difference of shipping charges between where you live and what it would cost to ship within the US.
* See how to place a bid for more detailed instructions.
If you are the highest bidder September 23rd 8:00 p.m. mountain time then you WIN the card/project that you bid on
I created this card from
Always Here and Dandelion Dreams
, and if you bid on it and win the bidding, you will get a set of five of the same cards and they will all have a coordinating envelope.
.
3. You can help by Telling Your Friends~
Help us spread the word about "blogs 4 boobies" the more people that know, the more money we can raise!!!
*"How to place a bid on my card/project"
Step #1
Find the comment section of the blog that shows the "Blogs 4 boobies" card or project that you want to buy. *Please note you may only bid on the card/project shown in the specific "blogs 4 boobies" post. *Any bids not placed on the correct post will be considered invalid.
Step #2
Once you are in the "blogs 4 boobies" comment section fill in the dollar and cents amount of what you are willing to pay for the card/project.
We recommend a starting bid of $5 or more.
Remember
your bid includes shipping
as well as the card/or project. 100% of the money your bid will go to the Susan G. Komen Foundation
Step #3
Next to your $ bid please type in your email address. During a silent auction bidders sign their name next to their bid. typing your email address is the electronic equivalent of signing your bid. Also it will help the blogger contact you if you are the highest bidder.
Step #4
Watch and wait.
Once you have entered your bid/comment sit back and wait. If someone out bids you then you may bid again. Bidding will continue until 8:00 p.m. Mountain time September 23rd
* Please note that the participating stampers/bloggers will probably re-post their Blogs 4 Boobies card/project on the 23rdof September.
When the blogger re-post their project then the bidding will continue on the NEWEST post and that comment section.
"What do I do once I place a bid"
Watch and Wait
The "Winner of the Auction" Will be the highest bid (that includes an email address)in the comment section of the MOST RECENT blogs 4 boobies post at the end of the silent auction. Please note that ALL cards/projects WILL BE REPOSTED on the 23rd of September. The silent auction will end at 8:00 p.m. Mountain Time on September 23rd .
Things to keep in mind:
Near the end of the bidding you may not see bids as they come in. Most blog have a comment feature where the blogger must approve comments before they are published. So bid high. You might have the highest bid that is published, but someone might have outbid you in an unpublished comment/bid.
The blogger/designer will declare who has won the silent auction. Skipping Stones Design will send you an invoice for your donation/bid ammount. Please pay that invoice as soon as possible, so the designer can get your card/project in the mail to you.
You are here at my blog
http://lifeasathreeleggeddog.blogspot.com/
.

You should have come to me from Barb Turpin's blog
http://barbsboys123.blogspot.com

/
Next you are going to visit Megan's blog
http://meganhoeppner.blogspot.com/
.
If you lose your way along the hop, or jut happened upon my blog today and want to start from the beginning
click here
. Or go to
SSD's
home page
for the entire Blog bounce list. Have fun bouncing from blog to blog. Enjoy all the designs, and make a bid or two! This is a rare opportunity to take home a card/project from your favorite designer, and fight the war against breast cancer!!!
It just wouldn't be a Skipping Stones Design event without a sketch from an amazing designer. This month we are delighted to have Ashley Cannon Newell as our guest sketch artist. Here is her sketch SSD 042: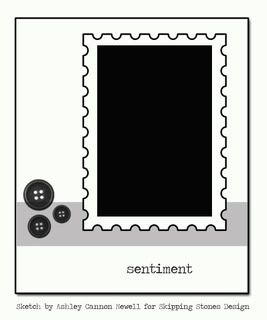 We all have someone we love who has or will battle this disease, so let's use the hope that lives in our hearts to help in finding a cure. Who knows when it may actually be and research is helping that reality get a little closer each day!
With love to our warriors in pink...
B-